53 Percent of Communications and Marketing Executives Report Spending Time Dedicated to CEO Activism, According to New Weber Shandwick Study
Two-thirds of communications and marketing executives (67 percent) in the US, UK and China whose CEOs have spoken out on hotly debated current issues believe that CEO activism reaps reputational rewards. According to CEO Activism: Inside Comms and Marketing, a survey commissioned by global communications and marketing solutions firm Weber Shandwick with KRC Research, only seven percent of those whose CEOs have spoken out say the impact was negative. Seventy-two percent of those reporting a positive impact say the benefits were long-term.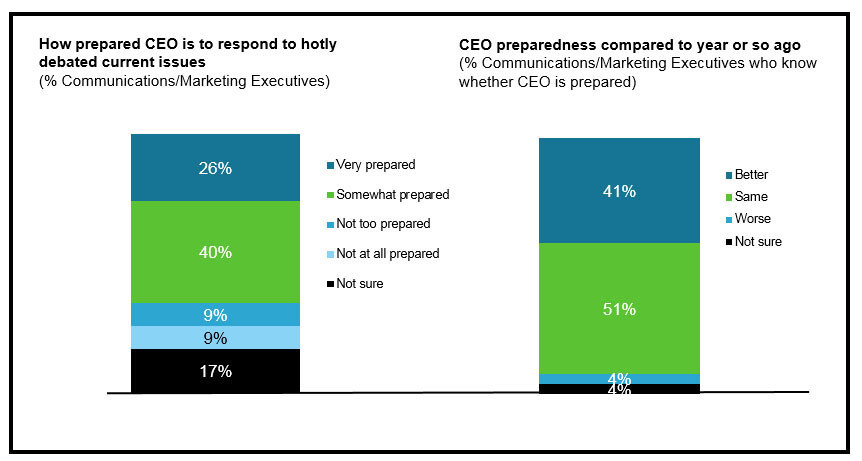 "As expectations grow for business leaders to speak out on political and social issues, companies must anticipate which issues affect their businesses and challenge their values, and be prepared to address them," said Andy Polansky, CEO of Weber Shandwick. "Our latest study among those responsible for corporate communications and marketing provides an inside look at how companies are faring in an era where CEO activism is quickly becoming the new norm and earning competitive reputational advantage."
Also Read: Unika Solves Enterprise Search Challenges With an AI-Powered Intelligent Knowledge Assistant
CEO Activism is Part of the Corporate Agenda

The survey shows that half of communications and marketing executives (53 percent) report their companies spend time discussing whether their CEO should speak out. An even greater amount, 59 percent, report an increase in time spent discussing it compared to years past. Twenty-three percent are spending the same amount of time and 18 percent are spending less time.
With considerable internal discussion on CEOs taking a stand, two-thirds of communications and marketing executives report their CEO is prepared to respond to hotly debated current issues: 26 percent report their CEOs are "very" prepared and 40 percent report they are "somewhat" prepared. One-third (35 percent) say the CEO is not prepared or they do not know enough to say. Among those who know whether their CEO is prepared to respond, 41 percent say their CEO is better prepared than they were one year ago. Only four percent report their CEO is less prepared.
Also Read: Wiztek Set to Revolutionize Tech Support With New On-demand Service for All Your Devices Anytime, Anywhere
CEO Activism Can Have a Positive, Long-Term Impact on Corporate Reputation

As headlined, CEO activism reaps reputational rewards. According to communications and marketing executives whose CEOs have spoken out on issues, the impact was more likely to have had a positive impact on company reputation (67 percent) than a negative impact (seven percent). Among those who report a positive impact, 72 percent report that the impact was long-term. Even communications and marketing executives whose CEO has been publicly silent see potential positive reputational impact: Half of those whose CEO has not spoken out on an issue (51 percent) say their company's reputation would have a moderate to big advantage if their CEO were to do so.
Favorability High Among Communications and Marketing Executives

Communications and marketing executives have strong enthusiasm for CEO activism at their own organizations. Six in 10 (62 percent) would have a more favorable opinion of their CEO if he or she spoke out on a hotly debated current issue. Favorability is even stronger among those whose CEO has spoken out, suggesting that communications and marketing executives perceive a real benefit of CEOs speaking out after having experienced it. Nearly four in 10 communications and marketing professionals (38 percent) have had their own CEO speak out on an issue, and among this segment, 78 percent are favorable of their own CEO taking a position.
Also Read: Data Privacy Day 2019 Reminds Businesses and Consumers About the Value of Personal Data and the Need to Protect It
CEO Activism Also Carries Potential Risk

Seven in 10 communications and marketing professionals (73 percent) think there is a moderate to big risk to company reputation if a CEO speaks out. They consider the top perceived risk to be criticism in social media (59 percent), followed by criticism from customers (55 percent) and criticism from employees (49 percent). Interestingly, perceived risk is lower among those whose CEO has spoken out (68 percent) than those whose CEO has not (77 percent), suggesting experience with CEO activism helps to alleviate concerns, hence the need to prepare.
"Communications and marketing departments are not shying away from CEO activism," said Leslie Gaines-Ross, Chief Reputation Strategist of Weber Shandwick. "Our research reveals that communications and marketing professionals are placing activism squarely on their C-level agendas and recognize that having business leaders be vocal on issues can strengthen a company's reputation for the long-term. They are subsequently making sure that their leaders prepare for the inevitable."
Also Read: Anaplan Named a Leader in Gartner Magic Quadrant for Sales Performance Management
A Guide to CEO Activism through a Communications and Marketing Lens

CEO activism is increasingly gaining importance on the corporate agenda. Based on our findings from this research, Weber Shandwick recommends that CEOs and their companies consider the following guidelines when preparing for activism and deciding whether they should engage in current issues.
Start talking about activism internally, if you have not already. Vet now. Publicly responding to hot-button issues may not be the right decision for every company all the time, but it is something that warrants discussion. Weigh the pros and cons of having a CEO speak out on a particular issue. With companies increasing the amount of time spent discussing this dynamic, other companies are at a competitive disadvantage if they leave CEO activism off the table entirely.
Recognize the reputational advantage. Communications and marketing executives acknowledge there are risks associated with CEO activism, but for the majority of those whose CEOs have taken a stance on an issue, the reputational advantages were strong. Be aware that perceived risk of activism declines among those whose CEO has spoken out and consider how your company might benefit from the CEO expressing a public opinion, particularly if aligned with the company's corporate values and principles.
Make sure the CEO and other top leaders know which issues they need to prepare for.Companies need to be prepared to respond to issues whether they preemptively decide to speak out or not. We have witnessed the media as well as consumer groups asking companies for the leaders' stances on particular issues, and a "no comment" can be easily open for misinterpretation from a company's point of view. Organizations should have a plan in place in the event stakeholders demand a perspective.
Shape your response around employee expectations and company values.Companies need to be firmly tapped into the pulse of employee sentiment on societal issues before they make a move that may not be in line with employee attitudes and expectations.
Understand that the wide reach of CEO activism is not just limited to the US.While much of the public focus on CEO activism revolves around emerging issues in the US, companies around the world are faced with deciding whether their leaders should respond. Our research shows that there is increased planning and preparation in China and the UK, in addition to the US.
Recommended Read: Insite Software Announces Enhanced Catalog and CMS Capabilities